Is your dairy struggling with elevated somatic cell and standard plate counts? Perhaps you should consider testing for Prototheca, a genus of microbes that are often overlooked in conventional dairy panels!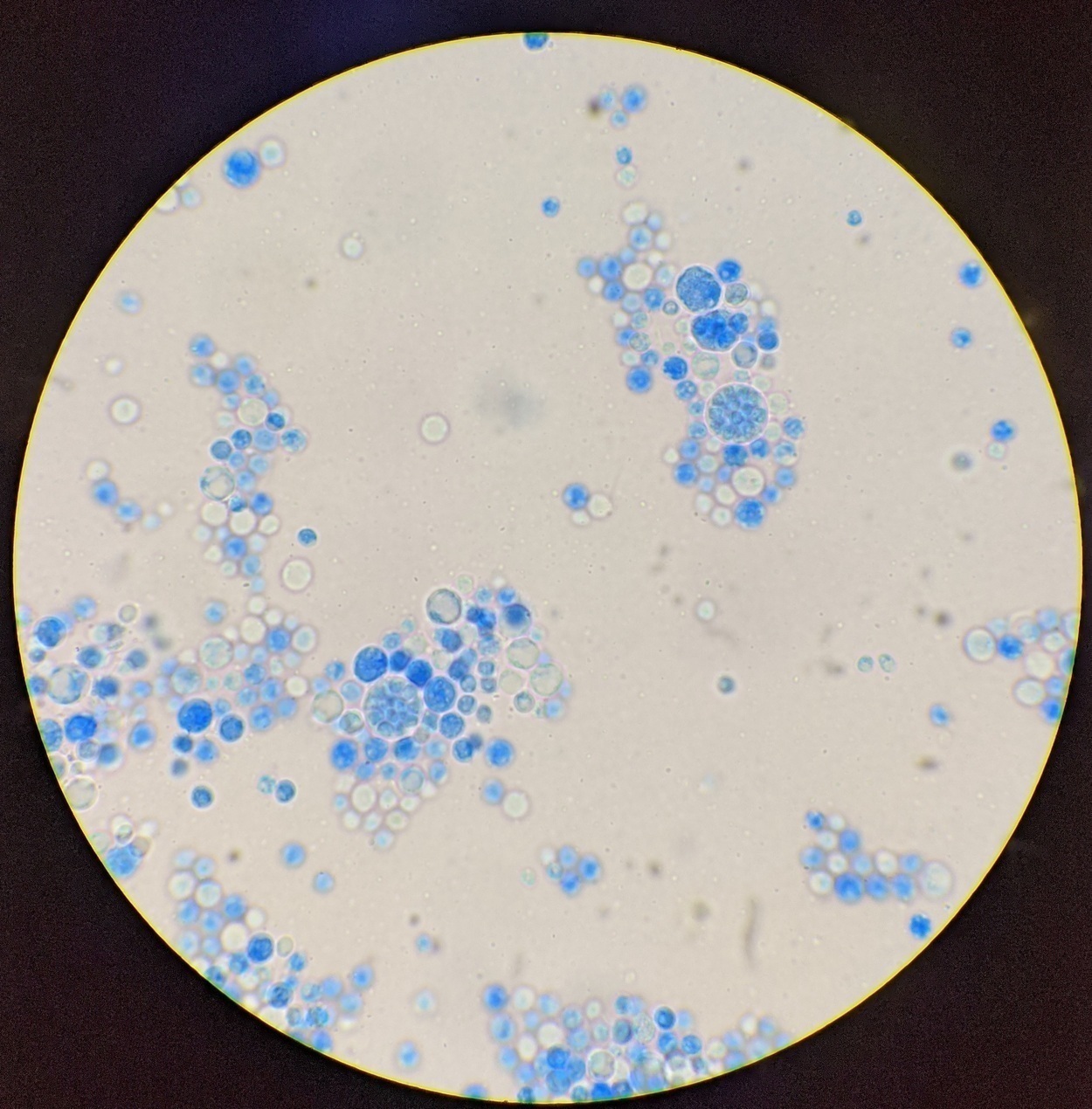 Prototheca is a genus of nonphotosynthetic single-celled algae that are capable of freely living and multiplying in many environments, including dairy farms, and have been known to infect cattle, cats, dogs, goats, sheep, and humans. As they pertain to animal agriculture, these algae are a source of frustration to farmers and veterinarians who work with cattle, especially dairy cattle; this is due to Prototheca spp.'s role in precipitating reduced milk yield and quality by provoking the development of subclinical/chronic mastitis and, although rare, protothecal gastroenteritis.
Historically, the genus Prototheca was considered a rare pathogen in dairy cattle, associated with infection primarily in the presence of predisposing and potentiating factors such as poor environmental conditions, insufficient milking hygiene, tropical climate, or immune deficiency. More recently, however, Prototheca spp.'s existence in sewage and soil worldwide, taken alongside the fact that cases of clinical and chronic protothecal mastitis are increasingly recognized as endemic, suggests that reality may be—as it generally is—more complicated than assumed. Stagnant ponds, watering troughs, soil, plants, streams, bovine and porcine feces, barns, holding areas, and rinse water may all become contaminated and are possible reservoirs for Prototheca spp. transmission.
Clinical signs of Prototheca spp. infection may range from occasionally clotted milk with a thin and watery appearance to palpable swelling, edema, and firmness of the affected quarters. Once the algae have gained access to the mammary gland, Prototheca spp. invade macrophages and udder tissue to establish chronic granulomatous lesions. Often, lactating cattle (and goats) will present as nearly asymptomatic until the infection is well-established, at which point treatment is challenging: since Prototheca spp. are not a common target for testing, they frequently go unidentified, and where they are identified, they do not respond to antimicrobials.
Much like other intramammary infections and pathogens with which you are familiar, Prototheca spp. may be transferred from the cow to the environment, from the environment to the cow, and from cow to cow at milking, and thereby spread through a herd; as such, it is strongly recommended to implement a preventive screening protocol (or add on to your existing mastitis control protocol) to account for this frustrating microorganism. And if your dairy already struggles with elevated somatic cell and standard plate counts which are indicative of mastitis, rather than undergoing expensive, selective, and perhaps indiscriminate mass antimicrobial treatments—a primary cause of rising antimicrobial resistance in modern medicine—please consider testing for the causative pathogen , including Prototheca spp., prior to developing a remediation plan. Prevention and a robust testing program the best weapons available to combat pathogenesis.
Fortunately, detection of Prototheca spp. is simple, convenient, and quick! Suitable specimens for identification in a dairy herd include milk, colostrum, or rinse water, which you are likely already collecting. Discuss screening with your veterinarian and please note that RTI offers pooled or individual culture detection of Prototheca spp., for which test results are available 3-4 days following sample arrival. Local pick-up available; please reach out for details.
For more information, please contact Sonja Van Holland at svanholland@4rtilab.com, or call 605-696-7300.
RTI is a leading biomedical contract research organization, providing global clients in animal and human health, biopharma, and advanced feed/nutrition industries with premier quality services and product development support. RTI's pre-clinical and clinical research teams routinely conduct both GLP and GCP studies and have expertise in pharmacology, pathology, vaccinology, microbiology, virology, and immunology. RTI's challenge models (and pathogens) are characterized in the literature and well-accepted by regulatory authorities worldwide as the standard by which many vaccines achieve approval and registration. Their Research Laboratory is fully equipped to handle most assays and formats, including ELISA development, and the Diagnostic Laboratory conducts a host of assays under the ISO 17025:2017 standard. Every team member strives to stay at the forefront of animal health care and welfare, new technologies, and governing agency regulatory rules.